Iowa State University's 100% online Civil Engineering Masters Degree provides a unique blend of technical and managerial education that will help you solve problems and compete in ever-changing civil, construction, and environmental engineering world.  You may join the program at the beginning of any semester and take graduate courses at a pace that suits your needs. Classes are taught by our faculty members who are well-known in their fields. Courses are delivered asynchronously, so you may choose the day, time, and loca­tion to complete course activities allowing for maximum flexibility. The degree is built by you and your academic advisor. You may choose a course work only option or creative component option.
Following is a list of courses offered online by our department:
Fall 2020
Spring 2021
Construction Project Engineering and Management – CE 502 Summary
Methods for Data-Driven Computational Engineering Research – CE 519 Summary
Water Pollution Control Process – CE 522 Summary
Seismic Design – CE 545
Ground Improvement –  CE 569 Summary
Surface Water Hydrology – CE 571
Pavement Analysis & Design – CE 583 Summary
Seminar in Environmental Engineering – CE 591
Special Topics in Construction Engineering & Mgmt: Computer Applications for Planning & Scheduling – CE 594B
Special Topics in Construction Engineering & Mgmt: Design Build Construction – CE 594M
Research Methods Seminar in Construction Engineering & Mgmt: Quantitative Methods – CE 595B
Advanced Topics in Transportation Engineering – CE 650D Summary
Summer 2021
Advanced Construction Special Topics: LEED for New Construction – CE 594L Summary
Visit Engineering-LAS Online for a list of all online courses offered at ISU
Admission Requirements
Undergraduate GPA of 3.0 or equivalent.
GRE guidelines: Verbal 146, Quantitative 155, Analytical Writing 3.0

The GRE requirement may be waived for an applicant who has a bachelor's or higher degree from a United States ABET accredited institution.

International applicants must submit one of the following English proficiency exam scores, and must meet or exceed:
Applicants with a degree that is not engineering can qualify for the program.

There are civil and/or construction engineering prerequisite courses that can be completed as a nondegree student.
The prerequisite courses will not count towards degree requirements.
Degree Requirements
The Master's programs in Civil Engineering or the Construction Engineering and Management specialization are designed to assist individuals who already have a bachelor's degree in engineering or related areas to pursue in-depth study. The flexibility of the program allows students broaden their skill set and depth of knowledge based on individual needs.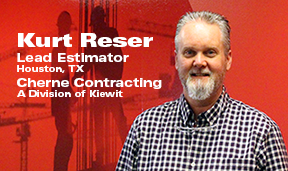 "The online master's in Civil and Construction Engineering gave me the flexibility to pursue a degree while working in the field, not knowing where my next job would take me."
– Kurt Reser
Contact Information

Dawn Miller
Graduate Coordinator
305 Town Engineering
515-294-8212
cceeonline@iastate.edu
Construction Engineering and Management
Master of Engineering (Course Work Only Option)
Minimum of 18 credits inside the specialization
Minimum of 6 credits outside the specialization
Minimum of 20 credits of 500 level courses or above
Maximum of one course at the 400 level within the department
Minimum of 22 graduate credits from ISU
Total of 30 course credits
Master of Science (Creative Component Option)
Minimum of 2 credits for creative component
Total of 30 credits including creative component
General Civil Engineering
Master of Engineering (Course Work Only Option)
Minimum of 18 credits inside the department
Minimum of 6 credits outside the department
Minimum of 20 credits of 500 level courses or above
Maximum of one course at the 400 level within the department
Minimum of 22 graduate credits from ISU
Total of 30 course credits
Master of Science (Creative Component Option)
Minimum of 2 credits for creative component
Total of 30 credits including creative component