The Department of Mechanical Engineering, in partnership with Engineering Online is introducing a new online graduate certificate in Energy Systems Engineering.  In this 12 credit program, students take two core courses online and choose two electives from a variety of online courses.
One of the challenges facing society in the 21st century is providing sustainable energy for a growing world population. Widely reported warnings have emphasized the need to develop new sources of energy, while at the same time preventing or reversing the degradation of the environment. Energy systems are pervasive, affecting nearly every aspect of society. The increasing complexity of these systems, along with increasing environmental constraints, requires practicing professionals in the field that have knowledge, skills and abilities specific to energy system design, evaluation, construction and management.
Admission Requirements
Admission to the Energy Systems Engineering Graduate Certificate program is contingent upon the following requirements:
Bachelors of Science degree in Engineering OR Bachelors of Science degree, non-Engineering with:

11 semester credits in math (through differential equations)
16 semester credits in physics, chemistry and engineering sciences.

Minimum of 3.0 undergraduate grade-point average (GPA) – official documentation from previous studies that meets the requirements of the Graduate College. (4.0 scale).
International (non-English speaking) students need to take the Test of English as a Foreign Language (TOEFL) or the International English Language Testing System (IELTS).  Minimum scores for admission are: paper based TOEFL – 550; internet TOEFL – 80; or IELTS – 6.5.
Admission and application procedures can be found on the Graduate College website.  Students may take up to 9 credits as a non-degree seeking student, so it is possible to begin your studies before formal admittance into the program.
Certificate Requirements
The Energy Systems Engineering Graduate Certificate consists of a minimum of 12 approved graduate credits. Students must maintain a grade average of B or higher in all coursework.
Required courses (6 credits)
ME 531X Advanced Energy Systems and Analysis (3 credits), offered every fall
ME 510X Energy Engineering Economics and Policy (3 credits),offered every spring
Two elective courses selected from a number of courses offered by different departments at ISU.
Note that if a student's undergraduate degree did not include a course in thermodynamics, three (3) credits must be ChE 381, MatE 311, or ME 332 or an equivalent thermodynamics course at another university. Elective courses include: 
AerE 381 Introduction to Wind Energy
AerE 546 Computational Fluid Dynamics and Heat Transfer I
AerE 547 Computational Fluid Dynamics and Heat Transfer II
BRT 501 Fundamentals of Biorenewable Resources
BRT 535 Thermochemical Processing of Biomass
ChE 357 Transport Phenomenon II
ChE 554 Integrated Transport Phenomenon
ConE 354 Building Energy Systems
EE 455 Introduction to Energy Distribution
EE 456 Power System Analysis I
EE 457 Power System Analysis II
EE 458 Economic Systems for Electric Power Planning
EE 553 Steady State Analysis
EE 554 Power System Dynamics
EE 556 Power Electronic Systems
EE 653 Advanced Topics in Electric Power Systems Engineering
ME 332 Engineering Thermodynamics II
ME 433 Alternative Energy Conversion
ME 530 Advanced Thermodynamics
ME 540 Solar Energy Systems
ME 542 Advanced Combustion
ME 546 Computational Fluid Mechanics and Heat Transfer I
ME 547 Computational Fluid Mechanics and Heat Transfer II
ME 637 Convection Heat Transfer
NucE 401 Nuclear Radiation Theory and Engineering
NucE 430 Nuclear Engineering and Society
Note
Other on-campus courses can also be used to fulfill the electives requirement.
Some of the courses are offered once per year, others once every two years.
Completion of introductory courses may be required for no credit of students who are deficient in the respective course prerequisites.
Credits gained could count towards a subsequent master's degree.
Contact Information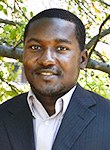 Mark Mba-Wright
Associate Professor
Mechanical Engineering
2078 Black Engineering
markmw@iastate.edu
Phone: 515-294-0913
Samantha Hirschman
Program Assistant for Graduate Education
Mechanical Engineering
2019 Black Engineering
515-294-0838
srhirsc@iastate.edu
Engineering Online
800-854-1675 or 515-294-7470
engineeringonline@iastate.edu