The Department of Electrical and Computer Engineering (ECpE) offers a Master of Engineering (MEng) Degree in Electrical Engineering which is 100% online.  This distance education program is ideally suited to working professionals seeking to advance their careers. A typical schedule includes one class a semester, allowing students to finish their degree in 5 years.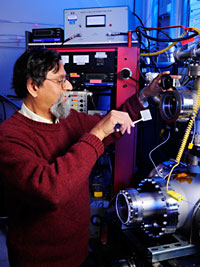 Application Information
The Master of Engineering degree program in Electrical Engineering is intended for students who have a bachelor's degree in electrical engineering. For students with a bachelor's degree in other engineering disciplines, or in some closely related sciences may be considered for provisional admission if other admission requirements are met.
Application Requirements:
Bachelor's or master's degree in electrical and computer engineering or closely related field
GPA of 3.0 or better (on a 4.0 scale) at an undergraduate level
The GRE is required. Applicants should present a score of 155 or better on the Quantitative section. This requirement may be waived if the applicant has either an undergraduate cumulative GPA of 3.0 or better on a 4.0 scale, or at least two years of relevant work experience in the industry.
Statement of Purpose
3 letters of recommendation
Non-native speakers of English must also satisfy the English Proficiency Requirement with a TOEFL score of 88 or better (or equivalent)
Application deadlines: for fall admission, please apply by July 15; for spring admission, apply by December 1. More details on application procedures may be found on ECpE Graduate Admissions.
Degree Requirements
The Master of Engineering (MEng) is a course-work only degree program, so there is no thesis or creative component. To complete the MEng degree:
A minimum of 30 credit hours of coursework (No fewer than 22 of these credits shall be earned at Iowa State.)
At least 18 of the 30 credit hours of coursework must be from EE or CprE.
Independent Study credits (EE or CprE 590) may be taken as often as desired, but only 3 credit hours may be counted toward the credit requirements for your program of study.
More details on MEng program of study requirements are found in the ECpE Supplementary Rules.
Courses:
Visit the ELO courses page for classes currently available. Learn more about the Enrollment Process for Online and Distance Learning.