Engineering Online and LAS Online partner together to offer a variety of online courses in an effort to help students find balance in their academic, work, and life schedules. We are working on adding new courses and updating existing ones to accommodate these demands.
Here are some of the new and updated LAS Online classes:
Summer 2020
ASL 101:  American Sign Language I
ASL 102:  American Sign Language II
CL ST 273:  Greek and Roman Mythology
LD ST 333:  Women and Leadership
MATH 165:  Calculus I
MATH 265:  Calculus II
THTRE 110:  Theater and Society
Fall 2020
COMST 218:  Conflict Management
HIST 201:  Introduction to Western Civilization
RUS 101:  Elementary Russian I
RUS 375: Russia Today: Varied Topics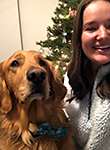 "I enjoy taking online classes because it allows me the flexibility to stay home and cuddle with my roommate's dog."
– Danielle and Wally

As an undergraduate engineering student at Iowa State, you can earn a minor to prepare you for a career in the biomedical engineering field.
Talk to your Advisor for how a Biomedical Engineering Minor might be an option for you!